On the market today, there are many products of crane trucks from many different brands such as: Tadano, Sany, Kato, Liebherr, ... However, Japanese tire cranes are still preferred by the load. Weighting diversity, lifting capacity, flexible crane, safety. Are you in need of use and want to find a reputable crane truck rental company to cooperate? So don't miss our article. A lot of useful information will be sent to you shortly.
U-Mac's rental cranes are one of the most prestigious rental equipment from Japan. Manufactured on modern technological lines, with high accuracy. With the flexibility, safety, the ability to lift heavy-duty cranes, Tadano, Sany and Kato tire cranes, which have been conquering Vietnamese users in every aspect.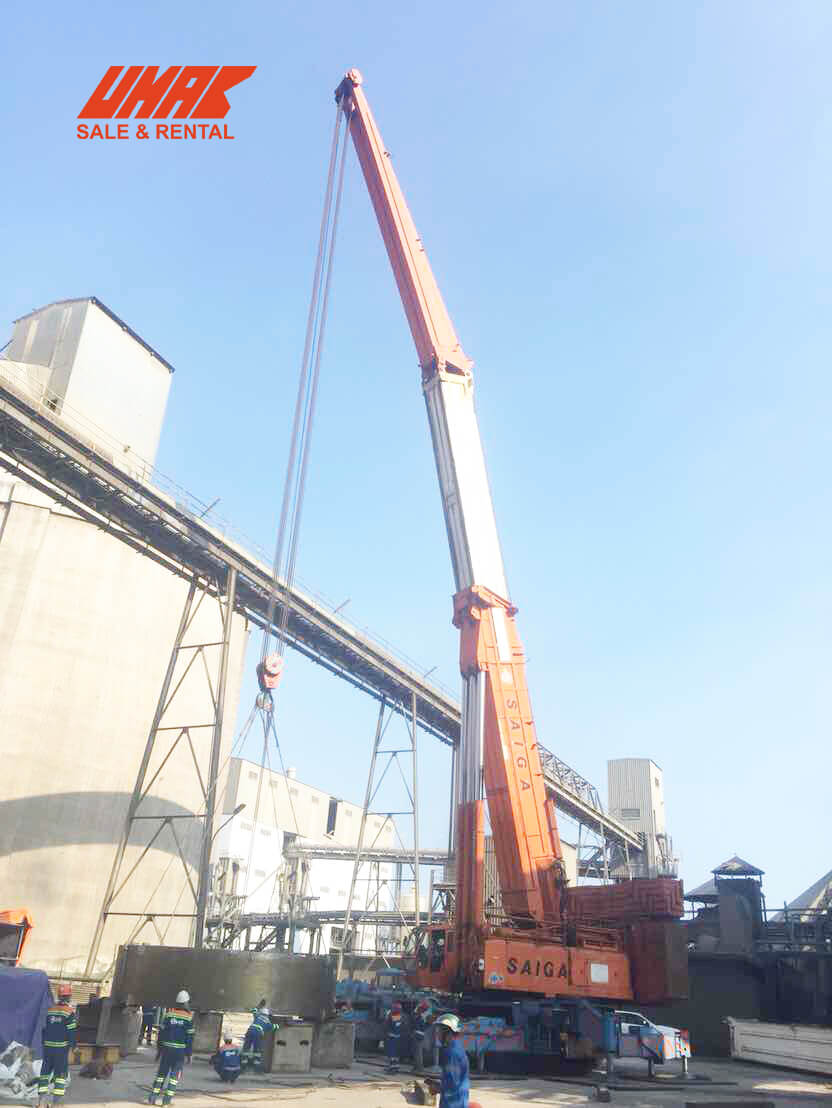 U-Mac specializes in renting truck cranes in Vietnam. Equipment imported from SAIGA Group
1, Assess the advantages and limitations of renting a truck crane
Before finding out where is the prestigious address to rent a crane, the rental price is good. Join us to assess whether this crane has advantages and limitations, is suitable for your needs or not.
1.1, Advantages of tire cranes
The reason why cranes are used increasingly popular, because they conquer users with a series of notable advantages:
- High-quality rubber tire design makes the crane easy to move, maneuver on all different terrain types, does not take much time to move and install like renting a crawler crane. From flat terrain to rugged, bumpy places.
- Wide design cabin, simple design control buttons, bring safety, comfort to the operator.
- Diverse load, suitable for diverse needs of users.
1.2, Limitations of crane wheels
Besides the above great advantages, tire cranes also have certain limitations. In particular, can not work in rough terrain or small working radius, the hire of crawler cranes meet. Therefore, you should only use a crane to hoist goods and materials where the work surface, structural terrain are stable, not too rugged and rugged.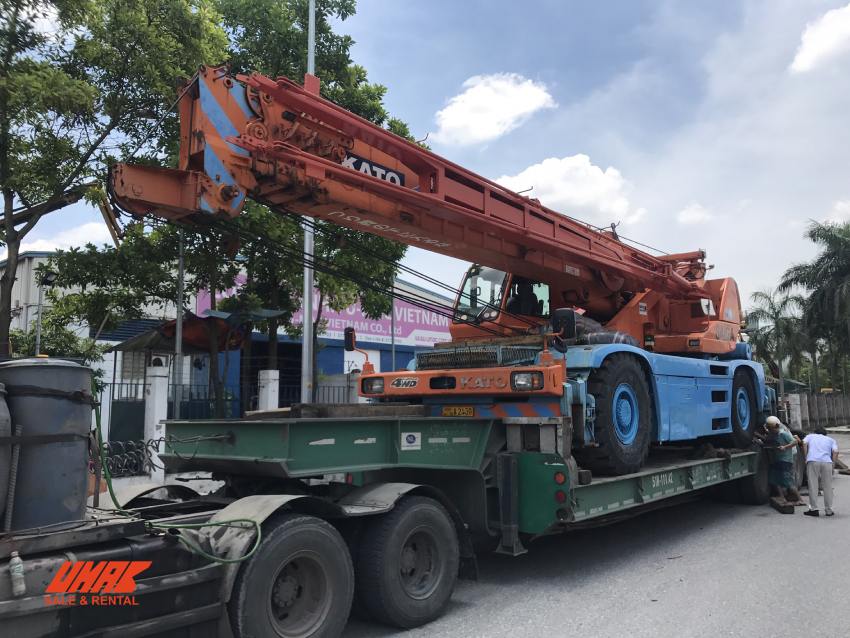 KATO KR-50H-V 50 ton truck cranes for rent are used to carry heavy loads, cranes, transporting heavy loads or withdrawing cargo from shipping containers to industrial areas, factories, and areas. export, ... Specialized crane transporting construction materials, goods for constructions throughout the provinces and cities across the country.
2, The main types of cranes and tires for hire:
Currently, the rental of truck cranes is mostly rented with 2 main types:
Rough Terrain Cranes: Rough Terrain Cranes, used in the form of tires to move on short journeys, more flexible in the building.

All Terrain Cranes: Tadano all-terrain cranes use tires to move. With all wheels turned, the crane can move and work on many different terrains.
- All terrain crane 2 cabs: very large lifting capacity, can reach over 500 tons. The ability to move fast, need long but does not allow moving in narrow terrain.
3, Address for renting reliable cranes
To be able to rent reputable, genuine standard cranes with the most reasonable crane rental rates, come to U-Mac - The No. 1 trusted crane cranes rental company in Vietnam. We specialize in renting all kinds of construction cranes, best price. Tadano and Kato tire cranes products that U-Mac leased were over 80% quality. Products are checked for quality carefully before handing over to customers by technical experts from Japan. We are ready to assist 24/7 whenever customers need. And fix the problem quickly within 12 hours after receiving the notice.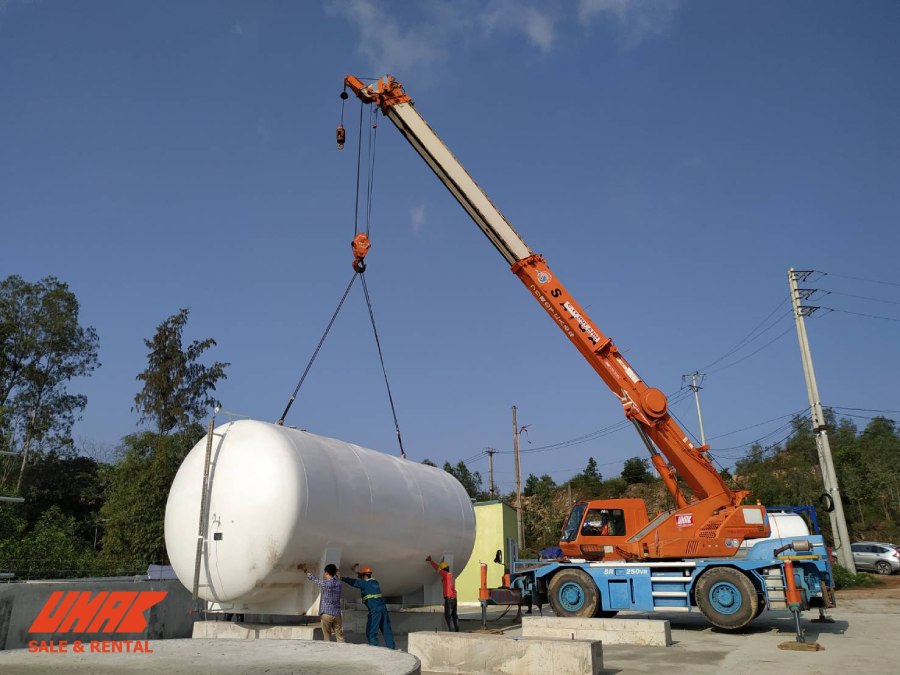 U-Mac provides Kato 25-ton crane truck with main boom length of 30.5 (m), auxiliary boom 13 (m), easy to carry out in the fields of factory building, bridge and road construction, building construction. houses, buildings, ...
The company is currently renting a variety of truck cranes: 25 tons, 50 tons cranes, 80 tons cranes, 90 tons cranes, 100 tons cranes, 110 tons cranes, 135 tons cranes, 250 tons crane truck, 300 tons crane truck, 500 tons crane truck,… .. Please let us know some information: rental time, location of use, type of crane ... We will send to you the most detailed crane truck rental quotes.
------------------------------
UMAC VIETNAM CO., LTD
Headquarters: 17th floor, Icon4 building, 243A De La Thanh, Dong Da, Hanoi
CN City. Ho Chi Minh City: 126 Truong Van Thanh, Hiep Phu, District 9, TP. Ho Chi Minh
Phone : 0975704000
Email : umac.mayxaydung@gmail.com
Website : https://mayxaydungvn.com.vn/