TADANO TIRE TIRE CRANE - ANY ALL Terrain
Among the kind of cranes used today, Tadano cranes are the leading cranes in the world and many businesses prefer them because of their maneuverability during work. For tall buildings or large scale, the use of cranes is indispensable. Let's take a look at the advantages of this crane.
1, Introduction to Tadano crane truck
Wheeled crane truck with origin from Tadano - Japan is evaluated as a prestigious manufacturer of construction equipment today. Tadano uses modern technology to produce high quality cranes.
Tadano cranes are mobile with easy wheel or crawler wheels for lifting loads from 30 tons up to 200 tons. The vehicle is designed with a system of 2 Cabin for easy transportation and control much easier.
Tadano is offering a variety of cranes designed:
All Terrain Cranes: Tadano all-terrain cranes use tires to move. With all wheels turned, the crane can move and work on many different terrains.
Rough Terrain Cranes: Tadano rough terrain cranes use the form of tires to move on short journeys, more flexible in construction.
Truck Cranes: Tadano cranes truck with high mobility, can move itself outside the work in Vietnam.
Telescopic Crawler Cranes: Tadano crawler cranes with crawler cranes on both sides move and lift goods.
DEMAG joins the Tadano Group: all-terrain cranes, Demag crawler cranes
Depending on demand and environment, businesses can choose suitable Tadano cranes. Choosing high quality Tadano cranes will definitely bring many benefits when using with high durability.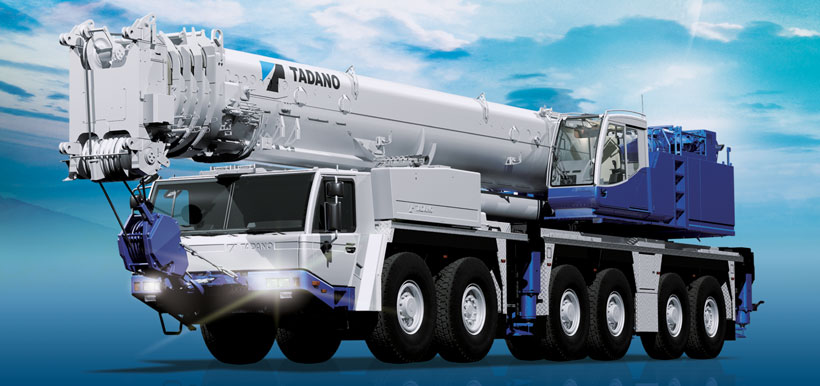 All-terrain all-wheel drive cranes - Operate all rudders simultaneously
Tadano cranes are commonly used in many businesses today
2, The advantages of Tadano cranes
Along with Demag, Kobelco and Tadano cranes, they are also highly appreciated for their quality and ability to work. Businesses can refer to the outstanding advantages of Tadano crane truck.
2.1, Tadano cranes operate stably, with less damag
Tadano uses state-of-the-art technology to ensure that the car runs well with a lifespan of more than 20 years. In particular, Tadano vehicles use thick, good-strength steel to hoist large loads. The car operates smoothly, durable and less damaged, moving easily on all terrains.
Businesses and contractors will always be assured of the durability of both Tadano crawler cranes and Tadano crawler cranes. Currently, specialized Tadano cranes are also commonly installed on trucks to ensure maneuverability when transporting on roads.
2.2, Absolute balancing ability, rotating shaft 360 degree
Tadano cranes are equipped with a crane system to help distribute the load evenly on the vehicle. As a result, the car has a good balance when moving and working.
The 360-degree CIRCLE rotation system will help the crane rotate continuously and quickly when needing to move goods from one place to another. As a result, Tadano cranes are highly appreciated for their efficient operation.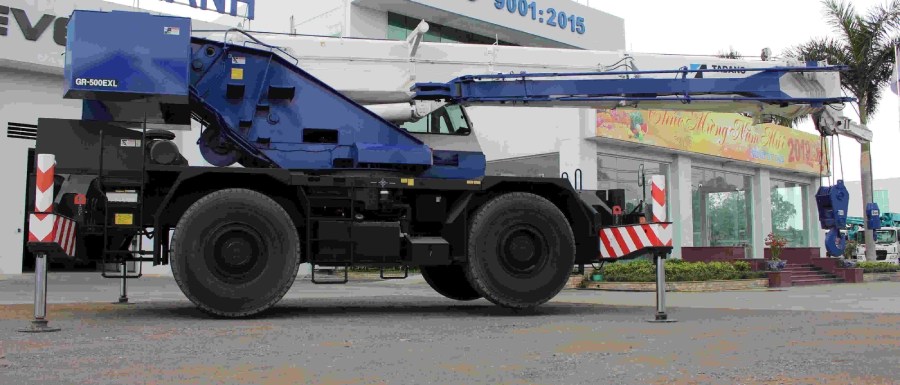 Tadano Terrain Crane - Operating 4-wheel drive
The crane is very durable, can carry heavy carg
2.3, Automatic operating ability
Self-propelled cranes Tadano is the ability to automatically operate without the operator operating by hand. The cage swipes, levers activate automatically so the car can move itself, increasing the speed when needed.
2.4, Safe operating equipment, saving fuel
The crane has hydraulic chamber of up to 800L capacity to provide enough for crane operation. Tadano cranes also have the ability to limit the temperature of the hydraulic oil soaring, reducing the rate of evaporation. Therefore, the Tadano crane has the best fuel economy.
Tadano cranes are also equipped with double locks according to Tadano's standards to ensure safe operation. Therefore, the operator can safely operate the cranes when the vehicle has less trouble.
3, Buy a Tadano crane truck where quality reputation?
On the market, the price of Tadano cranes is very high, usually ranging from 10 billion to 50 billion. Businesses and contractors who want to invest should choose reputable distributors to ensure price and quality. This is one of the factors that ensures the purchase of a quality, genuine, good price crane to save costs. Because of the relatively high price of new vehicles for investment, U-Mac provides old tadano cranes and tire cranes rental services to help customers have more choices when coming to our company.
Currently, Japan U-Mac is the leading importer and distributor of Tadano crane in Vietnam. The unit offers a wide range of Tadano vehicles to meet the requirements of each customer. Vitrac is committed to quality, providing a full range of import documents, registration papers for users.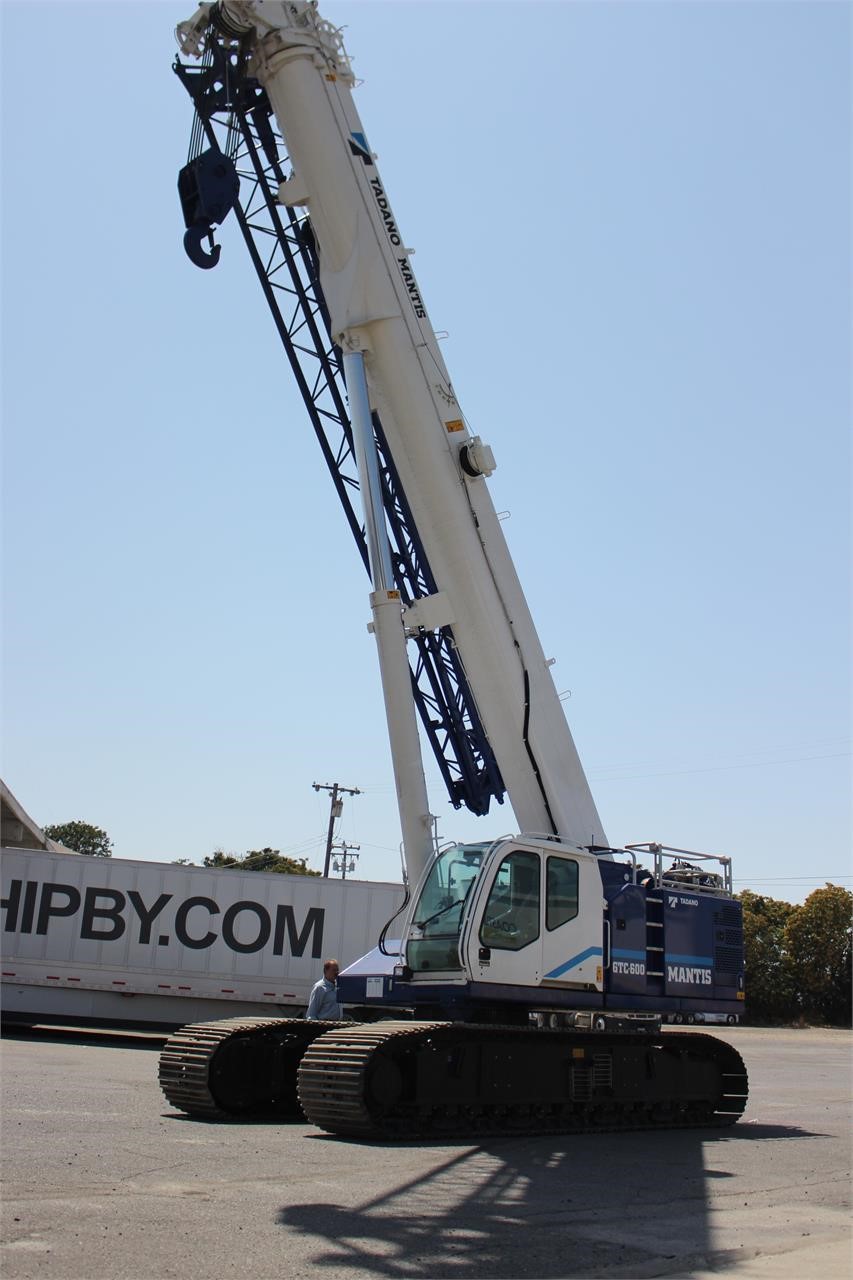 Tadano Telescop Boom Crawler Cranes - Crawler Cranes
High quality Tadano cranes distributed by U-Mac
Businesses, contractors can choose to buy or rent genuine Tadano wheel cranes. U-Mac technicians will advise on selecting cranes to meet usage requirements. At the same time, U-Mac also provides warranty service and maintenance of prestigious and professional crane equipment.
The option to buy a new and used Tadano crane from Japan will surely satisfy every customer. Truck cranes offer efficiency and benefits when used to transport cargo. Vitrac is always ready to provide in-depth technical advice as well as contribute to the success of the business.
UMAC VIETNAM CO., LTD
Headquarters: 17th floor, Icon4 building, 243A De La Thanh, Dong Da, Hanoi
CN City. Ho Chi Minh City: 126 Truong Van Thanh, Hiep Phu, District 9, TP. Ho Chi Minh
Factory warehouse: Phu My - Vung Tau, Nghi Son - Thanh Hoa, Ninh Hiep - Gia Lam.
Phone: 0975704000
Email: umac.mayxaydung@gmail.com
Website: https://mayxaydungvn.com.vn/