DENYO GENERATOR - THE BEST BRAND IN THE WORLD FROM JAPAN
Denyo generator is one of the most popular Japanese brands and is rated among the top in the world. Denyo was founded in 1948 and has created innovative products, one of which is Denyo generator.
Denyo is one of the world's leading manufacturers and manufacturers of high quality generators, headquartered in Tokyo. Currently, Denyo has many branches across the country, supplying denyo generators to millions of customers, applying in all production, business, living and construction industries ... In Vietnam, this Japanese generator accounts for 80% of the market.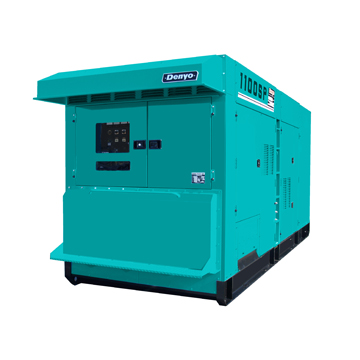 1000 kVA generator set
1. What is a generator?
The generator is a backup power source used in situations where there is no power supply, superior mobility and is appreciated by customers around the world as a source of energy to build society. The generator is the power source at the construction site. Widely used for live broadcast broadcasts, a wide range of events, leisure activities and other purposes, our generators create the optimal power to meet the needs of people. use. Offering high performance power and durability as well as energy conservation and noise reduction, these products have attained the top choice of experts in Japan and around the world.
During 70 years of operation in the industry, Denyo constantly researched, improved and developed to create Denyo generators in particular and other products in general with high quality that meet worldwide standards. . Manufacturers, traders, traders often use Denyo generators because it has the following outstanding advantages:
2. Genuine, powerful, fuel-efficient Japanese engine
Denyo generators use engines from brands: Mitsubishi, Komatsu, Hino, Isuzu, Yanmar .... These types of engines all meet the standards prescribed for emission standards, save fuel but do not reduce the power and productivity of the machine.
More importantly, the specialized engines in Denyo generators also allow to significantly reduce the Nox emissions environment, by extremely precise fuel pump control. Dynamic strength is extremely strong, the reason is that denyo has used engines suitable to actual capacity through a lot of research and practical testing.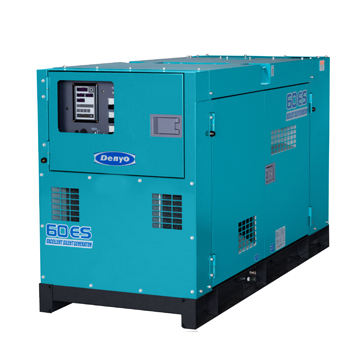 Denyo 50kVA generator
The generator head was designed and manufactured separately by Denyo. Therefore, the entire block is assembled uniformly, providing stable operation, good control of electricity and heat generated. Usually because the manufacturers often assemble engines and use locomotives from different brands, the operation is often unstable and has low durability due to no compatibility plan. But Denyo is the opposite, so its durability and extremely long machine life.
3. Capacity ranges from 50kVA to 1100kVA
Denyo generators are capable of supplying electricity to all areas of life such as: constructions, manufacturing, industry and daily life. Designed with a diverse power range, ranging from 5kVA to 1100kVA, Denyo generators can meet all the needs of living, business and commercial use.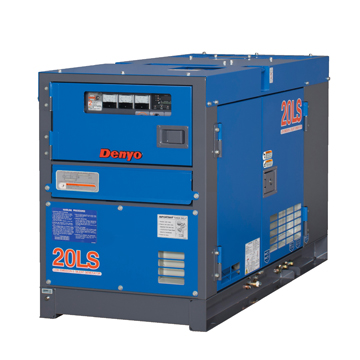 Denyo generator price
3. Structure of Denyo generator's frame reduces shock, noise-proof housing and price list of Denyo generator
Outstanding advantages of Denyo generators are low noise level (lowest reaches 50dB); It is also economical and durable, has high stability and great performance for a long time.
The platform frame system is made of shock-absorbing structure made of high-strength corrugated iron, preventing the machine from shaking strongly when operating. The machine corners are arranged technical rubber to reduce vibration and shock. The surface of the machine is coated with powder coating to prevent oxidation due to the impact of the environment.
The Denyo generator is made up of a base frame system, and thick iron. Due to the use of high-capacity diesel engines, the unit design is often larger in size and weight than other products of the same capacity.
The enclosure is designed to be noise-proof, meeting international standards for noise cancellation. The thick corrugated iron layer with electrostatic paint coating complies with international standards so it can withstand impacts from inclement weather. The soundproofing layer of the Denyo generator uses glass wool or foam to ensure absolute soundproofing effect whether it is in a densely populated area or running at high capacity.
Here is a list of Denyo generators on the market: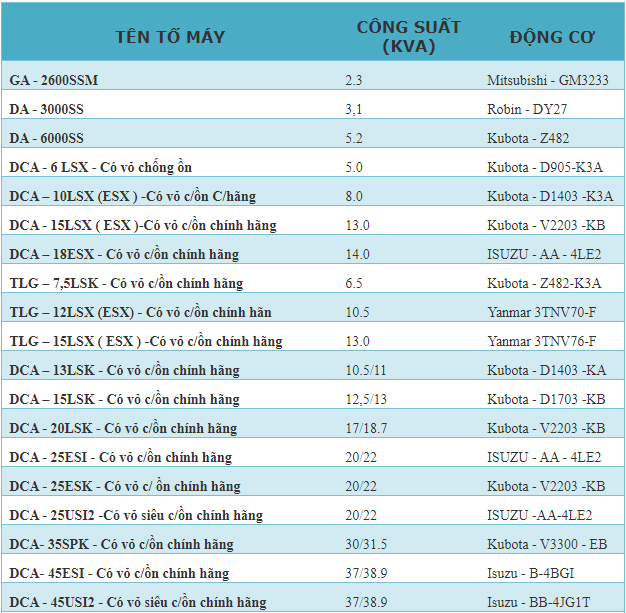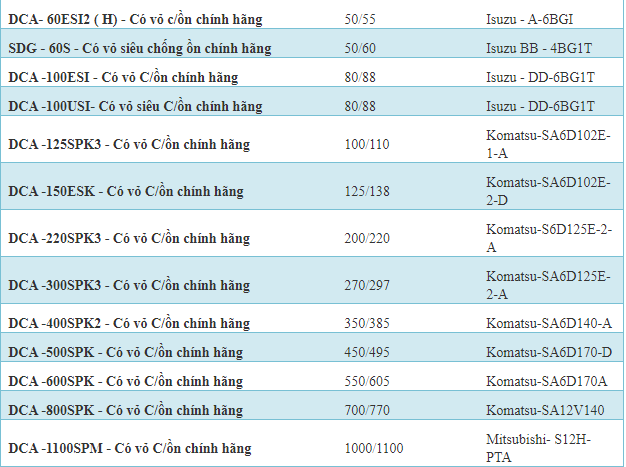 List of Denyo generators
5. Where to buy Japanese Denyo generators?
U-Mac is a leader in the supply and rental of generators and construction equipment, which are genuine Japanese imports and distributed nationwide. U-Mac with 100% Japanese capital is appreciated by thousands of customers for its quality and service:
Denyo generator has good quality, high durability, persistent despite continuous operation
High working efficiency, fuel economy.
Reasonable price, genuine imports.
Warranty regime is reputable, enthusiastic and guaranteed.
If you are in need of a Denyo generator, please contact us immediately for advice, support and generator quote:
UMAC VIETNAM CO., LTD
Headquarters: 17th floor, Icon4 building, 243A De La Thanh, Dong Da, Hanoi
CN City. Ho Chi Minh City: 126 Truong Van Thanh, Hiep Phu, District 9, TP. Ho Chi Minh
Phone: 0975704000
Email: umac.mayxaydung@gmail.com
Website : https://mayxaydungvn.com.vn/