U-Mac Vietnam - Importer and distributor of genuine Kobelco crane
For high-rise constructions, cranes must be used to facilitate the transportation of materials. Due to the high cost, many contractors can hire, but if used long-term, you should buy to depreciate conveniently. U-Mac is currently the leading unit in importing and distributing genuine Kobelco cranes. If you are in need of this product, please refer to the information below.
Crawler crane belongs to Kobelco manufacturer, originating from Japan. This is the company specializing in providing Kobelco cranes in particular, other cranes in general in the most prestigious in Japan as well as around the world. Kobelco cranes are highly appreciated for their quality, durability and safety in service of crane demands, material handling.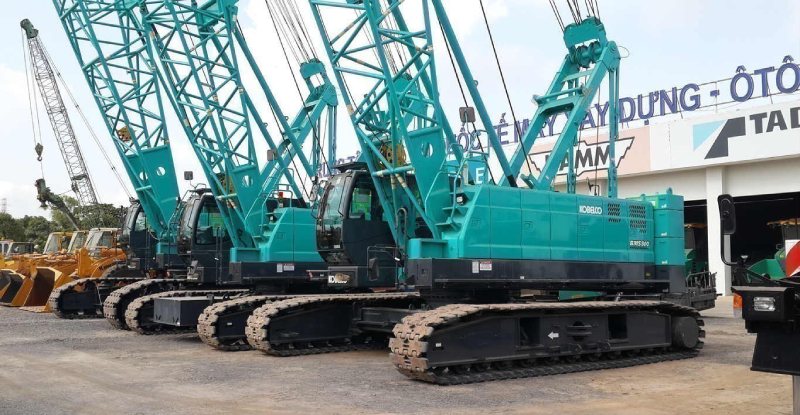 Kobelco crawler crane
Crane truck is a device commonly used in construction and lifting of goods
Kobelco currently offers a variety of Kobelco cranes ranging in size from small to large. Therefore, the construction contractors can choose the appropriate size for each scale of construction works. Kobelco crane equipment promises to bring a lot of benefits when used as well as suitable applications for different manufacturing industries.
1, The outstanding advantages of genuine Kobelco cranes
Kobelco cranes that have been put on the market have quickly gained popularity thanks to various advantages. Here are the outstanding strengths of Kobelco cranes so contractors can be assured of using.
Kobelco crane truck is designed with light crawler to move. Kobelco crawler cranes can work in many different terrains with diverse loads. In particular, Kobelco cranes are durable, able to withstand heavy weight, and have long reach. Basic parameters:
Mitsubishi engine and hydraulic system help cranes operate steadily, firmly and safely.
The crane is designed to have a strong structure to lift loads of different weight.
The bridge can lift goods and materials up to 700 tons.
Kobelco cranes are made in Japan for long service life. The old (used) cranes still work very well in Vietnam even after more than 30 years of operation.
Cabin is designed to be airy, tempered glass helps to be safe, insulate and soundproof effectively.
The seat comes with a flexible dashboard to support the driver operating the crane.
Large size fuel tank will help the vehicle operate in the long run.
From these outstanding advantages, Kobelco cranes have been quickly used in many different fields. In ASIA market, users can use the internal shuttle for the following applications:
CKS Series: Used to lift construction.
BMS Series: used to make foundation infrastructure.
Series 7xxx: for working in high angles (85 degrees)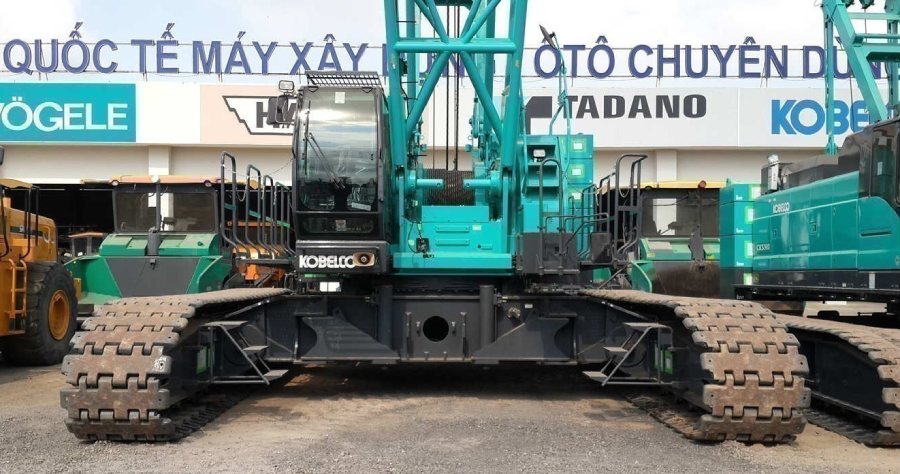 Kobelco truck crane operates stably, modern engines
2, Application of Kobelco crane truck
Kobelco cranes, crawler cranes of Kobelco are currently used in many different fields. Vehicles to meet the needs of construction works, production plants. Here are some applications of Kobelco cranes.
Carry out cargo of dozens of tons to different locations
Arranging packages of large weight and size goods
Capable of installing equipment quickly and easily
Used to support the installation of factories, warehouses, ...
Indispensable equipment in construction of large projects such as Nghi Son oil refinery, Long Son Vung Tau petrochemical.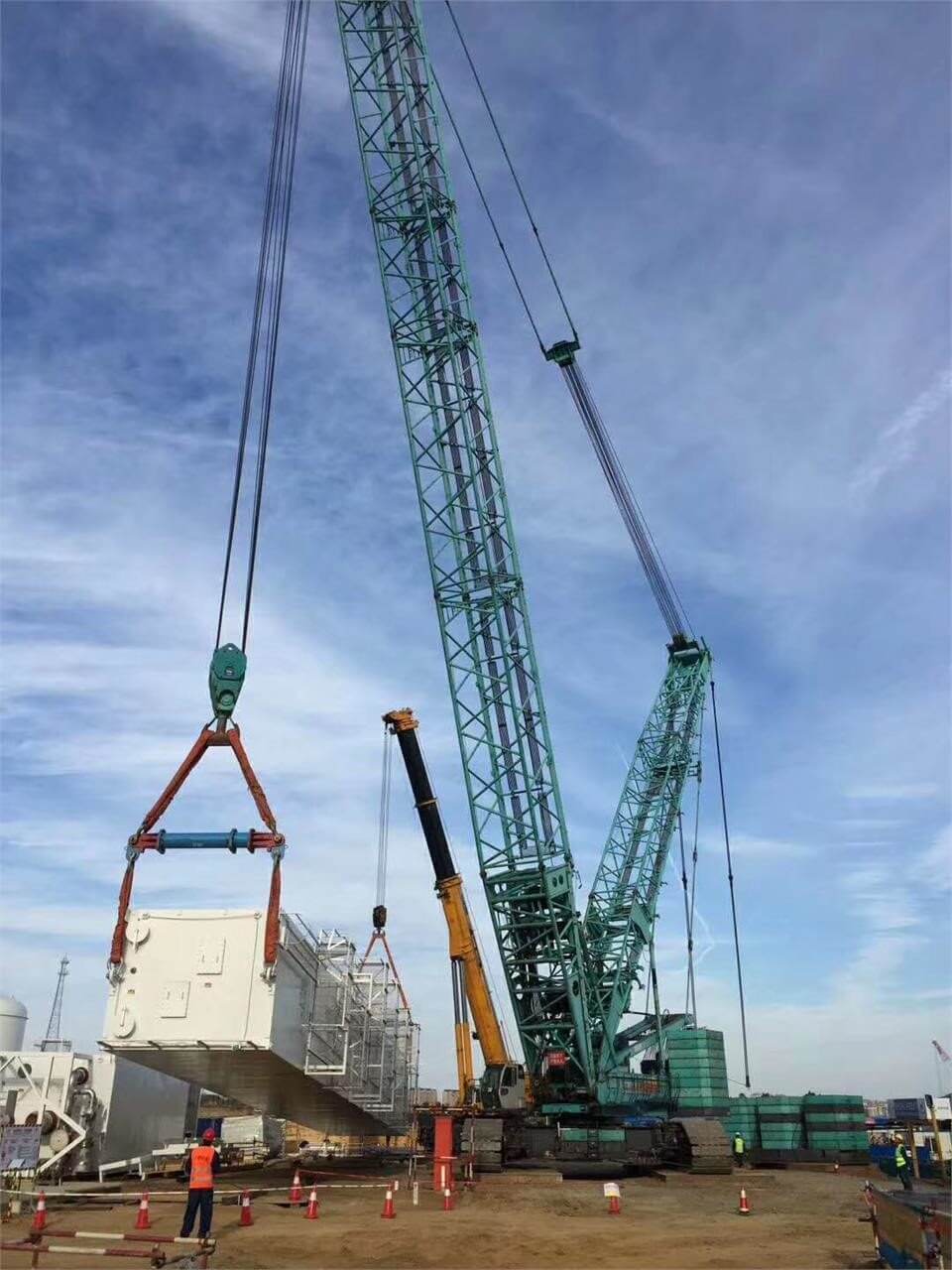 Crawler cranes for rent to reduce investment costs
3, Import genuine distribution and leasing Cranes for Rental Kobelco (Cranes for Rental)
In the current construction machine market, U-Mac is the No. 1 unit in importing and distributing - leasing genuine car equipment from Japan. The leading unit in providing construction equipment and quality lifting equipment to meet the needs of use in Vietnam today.
Committed to providing quality Kobelco cranes, 100% genuine.
Provide all attached documents such as registry, CO - CQ.
Highly qualified and responsible consulting team.
U-Mac provides professional service, according to the manufacturer's standards.
Technology transfer, detailed crane operating instructions to customers.
Supply components and accessories of genuine Kobelco cranes.
Above is information about genuine Kobelco cranes distributed by U-Mac and leased crawler cranes nationwide. Using quality construction machines will surely bring about high efficiency in work and ensure safety for workers. With the above advantages, Kobelco cranes are preferred by many contractors. For businesses wishing to purchase genuine Kobelco cranes, contact U-Mac immediately for advice!
------------------------------
UMAC VIETNAM CO., LTD
Tel : 0975704000
Email : umac.mayxaydung@gmail.com
Website : https://mayxaydungvn.com.vn/